— Fashion Designer and Textile Artist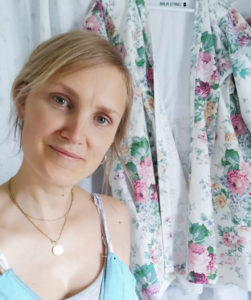 With the dream of living a slower life and creating something meaningful I moved to a farm outside Trondheim with my little family in the spring of 2017.
I've been into sustainability within fashion for a long time and felt a deep desire to make an impact by doing things differently.
Back in 2013 I had already started a brand focusing on zero waste design and products, but it almost fell apart before it was started due to lack in funding and a failed production. Did I have the courage to start over? How could I do things differently? Ohh the dreams..
I'm a creative by heart, but I also love to gather people. I desperately wanted to craft a business model that did more than just producing. My solution is to make different kind of art and clothes and at the same time host workshops to share my knowledge and ever evolving creative expression.
I have always loved to draw and paint – it's everything to me so I really wanted to combine the drawings and clothes in a clever way. Finally, after years of trying to combine the two, I found the perfect way by making my drawings into textile art pieces. Now I make both wall hangings and big textile pictures that becomes a garment with my zero waste technique.
My work is revolved around the idea of slowness and the question I ask myself in building my brand is how juicy could it possible be?, how much fun can I possible have doing what I love and building something of value to both me and the people around me? I'm an advocate for bringing more feminine energy into our work and lives in general. Forget the old paradigm where more and harder work equals success; the new paradigm challenges us to work smart and less – to bring more joy and ease into our busy lives. To slow down. 
We're living in a time where old systems and societal structures need to fall so there can be room for new ones to emerge.
Please get in contact if you want to collaborate or have any inquiries.
xx
Maja
ADDRESS
Mulegrenda 95
7074 Spongdal
Norway
EMAIL
hei@majastabel.no