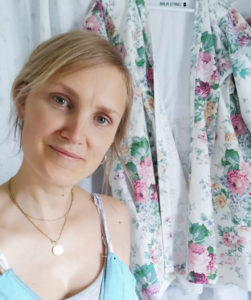 With the dream of living a slower life and creating something meaningful I moved to a farm outside Trondheim with my little family in the spring of 2017.
I've been into sustainability within fashion for a long time and felt a deep desire to make an impact by doing things differently.
Back in 2013 I had already started a brand focusing on zero waste design and products, but it almost fell apart before it was started due to lack in funding and a failed production. Did I have the courage to start over? How could I do things differently? Ohh the dreams..
I'm a creative by heart, but I also love to gather people. I desperately wanted to craft a business model that did more than just producing. My solution is a brand that both makes finished garments, but also sell patterns and host workshops to teach people to make the garments themselves.
My 3 words is:
Creativity

Community

Adventure
I have always loved to draw and paint – it's everything to me so I knew I had to integrate it in to my brand. Now the drawings and clothes are separate, but I intend to mash them together in the near future.
My tagline is 'I'm not a robot' which refers to anyone who like to stand out and do things differently. We're living in a time where old systems and societal structures need to fall so there can be room for new ones to emerge.
Would love to have you tag along! And please get in contact if you want to collaborate or have any inquiries.
xx
Maja
ADDRESS
Mulegrenda 95
7074 Spongdal
Norway
EMAIL
hei@majastabel.no